GASPARD EDEN REVEALS A COLOURFUL 90S REVIVAL WITH HIS NEW CLAY ANIMATION VIDEO "PANCAKES"
Quebec's Gaspard Eden today shares his new video "Pancakes". A glorious nostalgia inducing clay animation video for your favourite childhood tv, "Pancakes" is directed by tattoo artist Phil Berge, who found himself dabbling with clay animation during COVID 19. The result is a colourful 90's revival, reminiscent of shows like Wallace and Gromit, Pingu and Soupe Opera. "Pancakes" is taken from Gaspard Eden's forthcoming album Soft Power.
Speaking on the making of the video Eden says, " There is definitely a romantic / nostalgic aspect to the idea behind the video, for everybody who worked on that project grew up in the nineties, ended up having their childhood stimulated with a lot of clay animations playing on the TV. I remember going through my dad's Beta tapes collection as a kid, binge watching California Raisins episodes and being fascinated by its textures and colors, which in fact many years later still amaze me. I think it was kind of a big thing for the era, and indirectly became part of its aesthetic. Digging a little deeper in the history of the medium we came up with artists such as Bruce Bickford as references and fell in love with the aesthetic. Through the meticulous work of artist Phil Berge, he managed to craft that colorful and amusing early Nineties revival, a piece of art in my opinion, and really took me by surprise with its instinctive and creative scenario."
Gaspard Eden - Pancakes
" I am a tattoo artist who ended up without work due to COVID 19," explains director Phil Berge. "In that period of time, I started messing around with plasticine and did stop motion animations for fun…Many animations I used to watch in my youth such as Wallace and Gromit, Pingu and Soupe Opera definitely inspired me a lot in the making of the music video. The fact that stores were closed due to the pandemic represented a real challenge. It was tough to get the proper art furniture to carry out the project from start to finish, but this constraint gave a unique touch to it for everything you see in the video is handmade and carefully chosen. "
The musical textures of "Pancakes" evoke a cake with wacky flavors. Eden sings "Pancakes" in a naive and childlike manner with high-pitched verses that are reminiscent of Sesame Street. His fragmented rhythm section, dislocated guitar lines and nursery rhymes with power pop flavors underline his aesthetic vision of childhood innocence.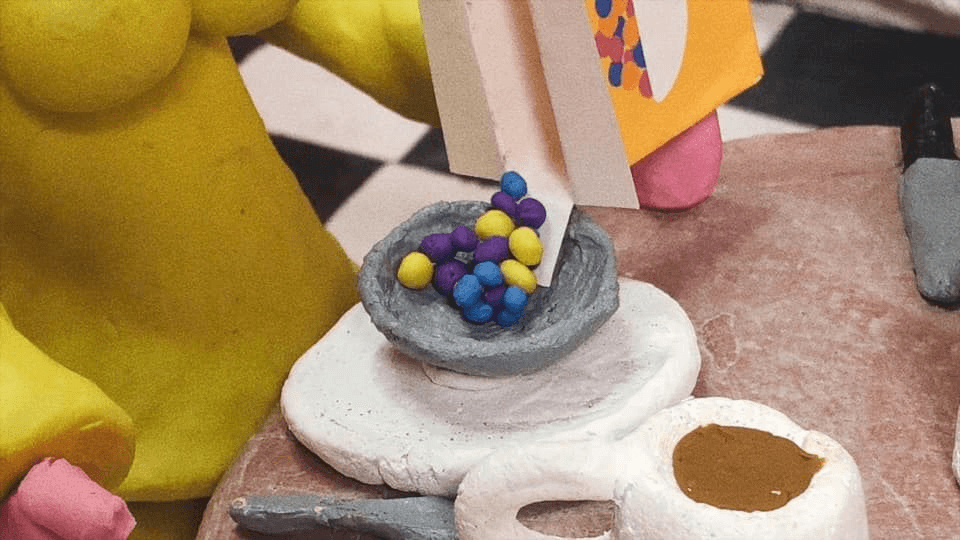 ABOUT THE ARTIST
The upcoming album "Soft Power" is the latest chapter in Gaspard Eden's constantly evolving artistic process and sees the singer/songwriter eschewing the deeply personal nature of his past efforts and making a conscious attempt to look outwards in order to create. In doing so, he manages to turn the mundane into the fantastic and make the best of a talented and varied stable of collaborators. Truly transcendent beauty comes in the form of simplicity and community for Gaspard Eden, whose distinct and almost stubborn strength of character shines more than ever through his music.